Is this your year for a pool at your house? You couldn't pick a more exciting time for pool design. Modern pool design is becoming more and more popular and creative with home owners as some of the new trends are very unique and fun. Whether you are moving into a new house that already has a pool into it, or are building it brand new in your existing backyard, there are several design trends to consider before making your final decisions on your pool style.
One of the most popular designs today is the beach entry pool. Everyone loves walking down the beach that descends into the ocean, why not get that feature every day of the summer in your pool? Building the entry way on a slant will give your pool a beach like feel and creates a much more comfortable space than stairs when it comes to lounging in the shallow end.
Another great popular feature to add to your pool design are some extra water features and designs. Some kind of fountain structure pouring water into the pool will add a natural and elegant feel to your pool. You can also double up on features with this by installing LED lights in the fixture to give the water pouring in a different color for some more added creativity.
Have you heard of knife edge pools? This awesome water feature is a great idea to give you pool an elegant and high end look of sophistication. The knife edge pool has a slot at the same level as the edge of the pool that allows the water to flow through it, giving off a mirror effect and a very smooth, glassy look on top.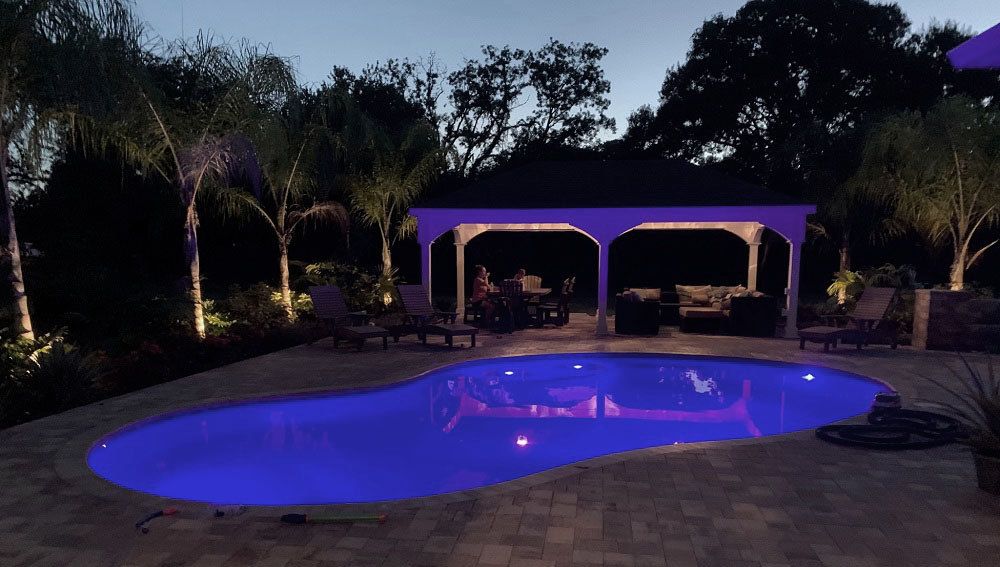 If you are looking to do a lot of night swimming in your pool, having sufficient lighting will be important. LED lights are growing in popularity among pool owners as they come in a wider array of colors and are more cost effective as compared to incandescent lights. With the ability to have them light walkways, stairs, and other design features, the versatility and functionality of the LED light makes it a popular choice for pool lighting.
If you are going for a resort style and elegant feel to your pool, glass tiles are the only way to go. Going for a deep blue or gray color for your tile will both give off the higher end look and feel to your pool. Glass tiles give a much deeper color than ceramic tiles, while also coming in a wider array of colors.
No matter what design feature you go with, many of these designs are sure to help to give your pool a unique, elegant look, while still being fun.