With spring looming on the horizon, it's time to start looking at our gardens and figuring out where our flowers will go. If you're worried about possibly having to purchase expensive containers for your new floral friends, take heart because the articles we've found have all kinds of great alternative options for turning your current household throwaways into fun planters.

Creative Ideas for Plant Containers

From repurposing a broken yellow chair to bringing new life to that old kettle flower pot, this article by Melissa J. Will for empressofdirt.net has some awesome ideas for turning items you would normally throw away or sell in a yard sale into cool homes for flowering plants and herbs. The article has great photographs so you can picture what you'll be creating and details on how to make the same thing for your home. In addition, just in case you do have some old pots lying around, she's got some great ways to dress them up and make them feel new. Get all the great tips and tricks by reading the full article here.
24 Creative Garden Container Ideas
If you've got some old shoes, paint cans or just about anything else lying around waiting for the landfill, then you can create a unique and beautiful garden display and this article by Lilly for Listotic.com, shows you just how to do it. Whether it's that sink you're replacing or an old birdbath that has seen better days, if you have anything around the house that can hold a bit of dirt, you can turn it into a cool planter. Find all the fun ways to turn your cast offs into fresh fun garden fare, by reading the full article here.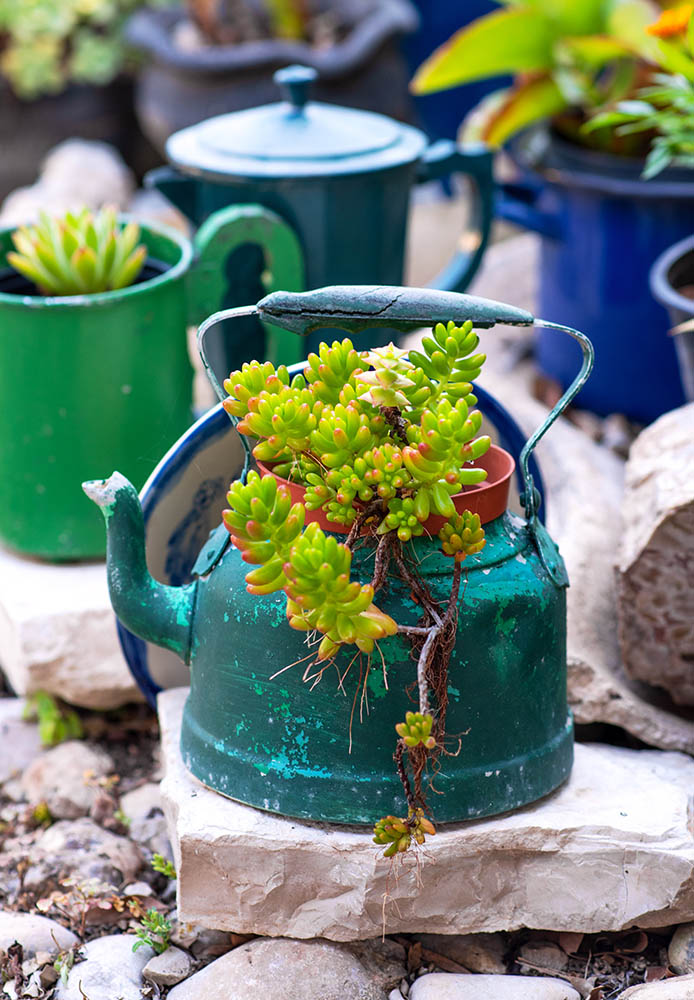 12 Creative Planter Ideas

Do you still have a jello mold laying around? Maybe you've changed out all your outlet and light switch covers in the house to something a bit more fancy and now you have no clue what to do with them? If this sounds like you, then you're going to love this article by Kerry Michaels for thespruce.com. In it, she shows us how to take all the weird little things laying around your house or garage and turn them into some super cute little planters. Don't fill up the landfill, turn that refuse into some fun and creative garden planters, and get all the details and directions by reading the full article here.
Repurposed Garden Containers Tons of Great Ideas for Your Plants
If you're looking for cool and unique ways to repurpose some of the items in your home, then you just might want to check out this fun article by Andrea for thecottagemarket.com. The article is about repurposing old furniture and other items by turning them into fun planters for your garden. Even if you live in an apartment with just a small space available, you can find ways to create a little green space of your own using something you probably already have lying around. Get all the fun details and see all the great photographs by reading the full article here.