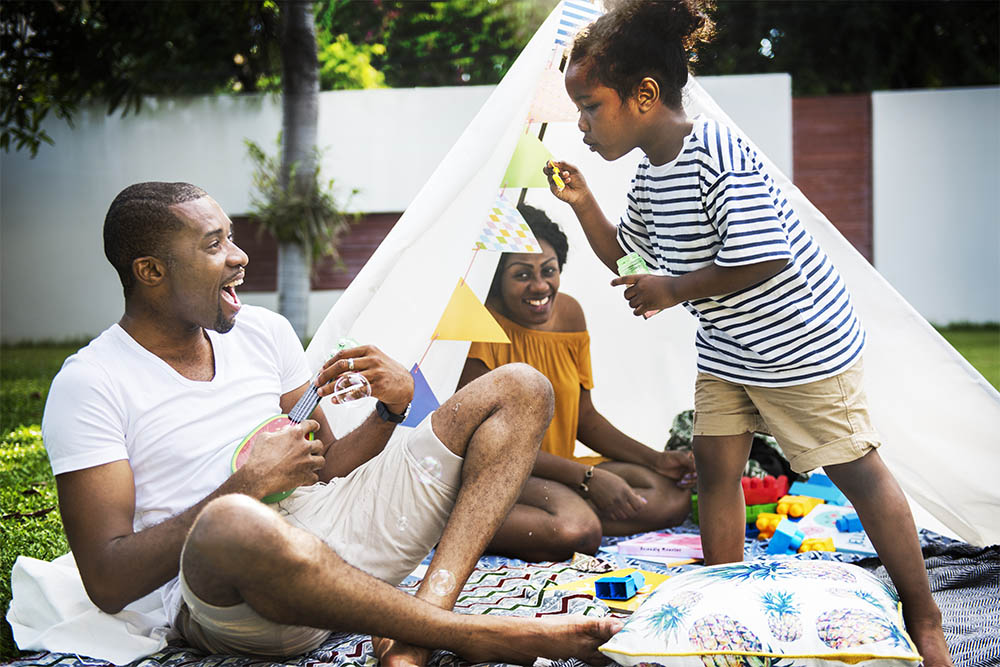 To get the kids to put down the game remote and get in some real play time, we've put together a list of fun and affordable ideas that can turn your backyard into Neighborhood Kid Central. Many of these play areas can be made using stuff around the house!
Chalkboard Walls: Give a slab of plywood a coat of chalkboard paint (found at your local paint store or home improvement center), then mount on your fence or outdoor wall. Add a plastic container filled with different colored chalks and watch the creativity flow!
Music Wall: On a section of fence, attach pots, pans, toy xylophones…anything that will make noise! Make sure they're low enough for little ones to reach. Wooden spoons make perfect drumsticks.
Playground Tiles: Make playtime safe with outdoor tiles that you can buy at your local home improvement center – perfect for yards with no grass!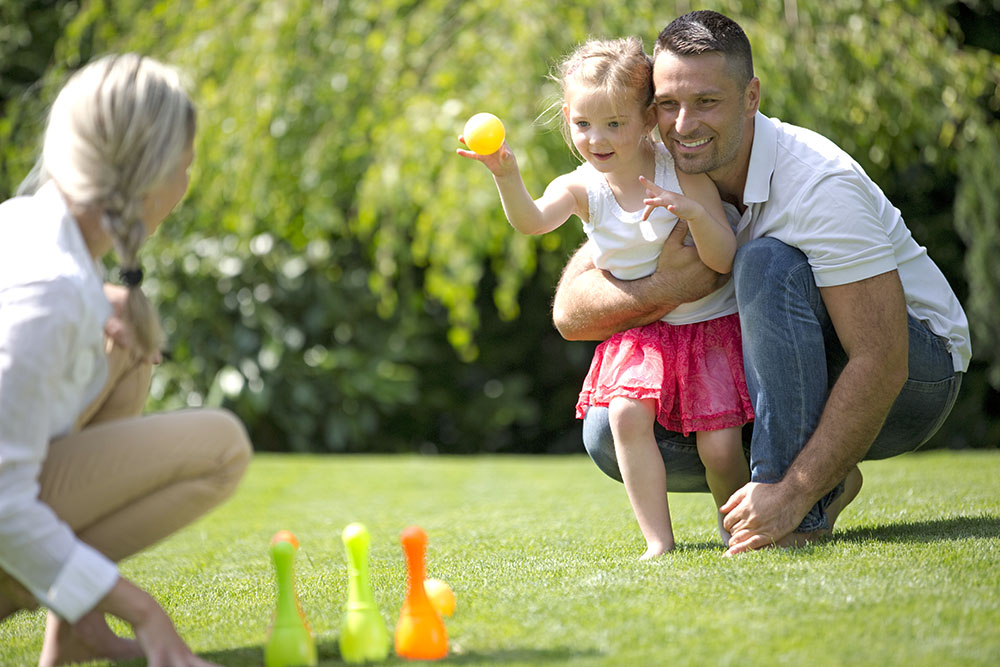 Backyard Bowling: Recycle those water bottles by turning them into bowling pins that can be knocked down with a soccer ball (or any ball heavy enough to take down the pins). Add food coloring to the water for a little variety. Bonus: Add a glow stick to each bottle for a fun round of night bowling.
Outdoor Twister: All you need is a circle stencil and red, yellow, green and blue spray paint to create this new "twist" on a favorite family game, right in your own yard.
DIY Beach: All that time spent in a hot car stalking parking lots for a space at the beach can be spent lounging in your own tropical paradise. Simply build a large shallow box lined with plastic tarp and filled with sand. Add a kiddie pool and maybe even a beach umbrella or two. The best part: No beach sand or wet towels inside the car!
DIY Water Sprinkler: Who didn't love playing in the sprinkler on hot summer days as a kid? Make your own sprinkler using a plastic 2-liter bottle taped securely to your garden hose. Use a nail or anything with a point to poke holes in the bottle. Turn on the water and enjoy!
Splash Pad: If a store-bought or professionally installed splash pad is out of your budget, you can make your own by laying down a large tarp and turning on the hose. You can set a sprinkler in the middle of the tarp for your own backyard mini-water park!
Backyard Camping: You can either pitch a store-bought tent or make one yourself using blankets, plastic party table cloths – whatever you have on hand. Add blankets and pillows and a plastic storage container to hold snacks, and you're good to go!
Treehouse: Need we say more?